ENSO is an urban winery that hand crafts authentic old-world style wines that express both the moment they were created…as well as the moment they're enjoyed.
Many great ventures begin in garages—ours certainly did! But they seldom stay there forever. So we upgraded. Our big "garage" in the Buckman neighborhood is our forever home. We opened our doors Memorial Day weekend of 2011 and we're open seven days a week!
When we began this venture called ENSO, we decided that it made the most sense to keep things small, efficient and manageable. That way, we could create fantastic wines at lower costs and give more attention to each small lot. Even as we grow, we keep our vision in mind. We keep things as small-scale as possible: Human-sized stainless steel tanks, small fermentation bins, and no-bigger-than-we-need crush equipment. This allows us to experiment, to care for each batch separately, and to create complexity in our small space.
We have chosen to source grapes from the finest vineyards up and down the west coast. Three states. All states that we have lived in. And all states that we love. Our grapes come from Washington, California, and Oregon – and we absolutely love each vineyard that we work with.
At ENSO, in addition to our wines, we keep a rotating tap of other Portland-made wines and local beers. There is plenty to taste and try in our Tasting Lounge. We have Aperitivo (aka Happy Hour) from 4-6 pm Monday-Friday where we offer all of our drinks and combo boards at a dollar off. So enjoy.
ENSO Winery began as a collaborative effort between passionate winemakers and grew into Ryan Sharp's urban winery. Ryan began as a winery grunt at Arcane Cellars on the banks of the Willamette River.
While Ryan fell more in love with winemaking, he also dreamed of leaving the valley to make wine in Portland, where he has resided since 2008.
After assisting John Grochau a few times, he fell in love with the idea of an urban winery. A place in the city, in a neighborhood, a local watering hole, a place to meet friends, and a place to produce world-class wine.
After moving to Portland from San Francisco, he transferred from UC Davis to Chemeketa to get a more focused education...one dealing more specifically with northwest climates and grapes. He started home winemaking several years back.
When not stirring up fermenting wine vats or bottling the latest vintages, you'll find him hunting down exotic wines from Bandol.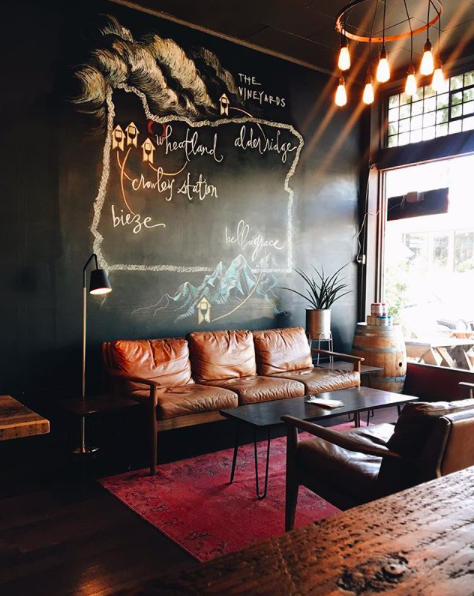 ALDER RIDGE VINEYARD
HORSE HEAVEN HILLS AVA, WASHINGTON
This is where most of our red wine grapes come from. These 20-year-old vines are just bursting with life! Located on the Columbia River—on the Southern border of Washington state—Alder Ridge has been regarded as one of the finest vineyard sites in the entire state.
WHEATLAND VINEYARD
WILLAMETTE VALLEY AVA, OREGON
Our old stomping grounds. Situated along the banks of the Willamette River, this macro-climate delivers the perfect amount of sun and warmth to get our white wine grapes to ripen.