We have a variety of ways to help you host a great party, wedding, private tasting, meeting, meal or other event at ENSO. Groups as small as 20 and as large as 120 can be accommodated. It's a great chance to show off wines made in Portland in a romantic, casual environment. We have food and beer options and can tailor the party to your specific needs.
Reservations for our Tasting Lounge are not required.
Below are some options for renting space at ENSO. Click the link at the bottom of the page to proceed with booking or to get more specific information for an event at ENSO. Or feel free to email us directly.
Maximum 60 people standing / 40 people seated
$200 / hour, including set-up and clean-up
Alcohol minimum is $250
18% Gratuity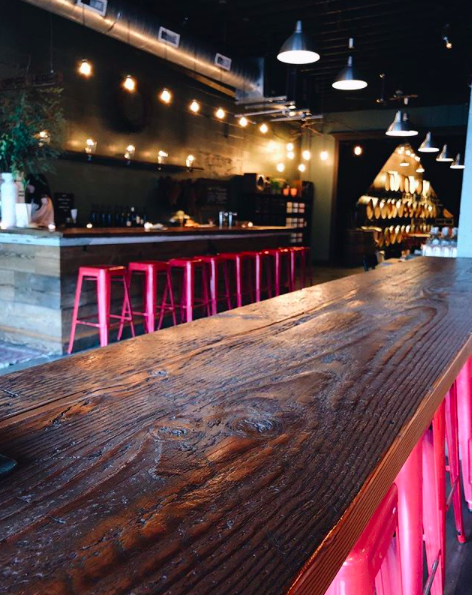 Our Tasting Lounge + Barrel Room
Maximum 120 people standing / 70 people seated
$1500 for access from 8am-2pm, including set-up and clean-up
$3000 for access from 2-10pm, including set-up and clean-up
Alcohol minimum is $1000
18% Gratuity
DRINK (OR HOW TO HANDLE THE BAR)
We serve delicious wine and beer and cider and sangria here at ENSO! We make about a dozen different wines on site and they're all available for your special event. We also have a few rotating local draft beer options, Portland Sangria and our seasonal local beer selections.
All rentals are subject to a reasonable alcohol minimum. The host is responsible for ensuring that the minimum is reached. If the minimum is not reached, the host is responsible to pay the difference. An 18% gratuity will be added to all drink and food purchases. Please note that we no longer sell bottles for on-premise consumption at events. The alcohol minimum can be reached in a few different ways...
HOSTED BAR - This is often referred to as an open bar. A Hosted Bar is covered by a single payer and you can set the dollar limit (as long as you reach the minimum). We can only serve beverages by the glass in our Barrel Room. The average glass price is $11. Beer is $6. The average guest will consume one beverage per hour of your event. Drinks are ordered and served either from the front Tasting Lounge or from the mobile bar in the Barrel Room.

NO-HOST BAR - For this, your guests are on their own for drinks. At the end of the event, our bar staff will tally their tabs to ensure that the alcohol minimum was reached.

WINE TASTING - If you would like to incorporate wine tasting into your event, we can pour tastings of 5 of our wines for your guests for $18/person.
Outside alcohol cannot be brought into ENSO. We are forbidden by law to serve liquor of any sort. We have a handful of non-alcoholic beverages and water stations available. You are also allowed to bring in your own non-alcoholic beverages. If you choose to do so, you will need to provide a cooler with ice if you'd like to serve them cold.
FOOD
ENSO can provide appetizer portions of locally-made salami, cheese and bread for $7/person. We present these on locally-made black walnut boards and they are a beautiful addition to the wines we make.
You are also welcome to bring in food that you have prepared or you may hire a caterer. Our recommended caterer is White Pepper. Client or caterer is responsible for providing all dishware and flatware, including any serving pieces. Client or caterer is also responsible for bussing and cleaning all dishware and managing all trash related to their use.
We are a full-production winery and love to share our passion for winemaking with people. For private tastings, rental fees and alcohol minimums are waived. We require a minimum of 10 people to host these events. Here are our two options:
PRIVATE TASTING WITH SNACKS ($40/person)
One of our knowledgeable staff will pour 5 of our wines and offer some backstory on ENSO as well as a short tour of our facility. Light snacks include salami, cheese and bread, as well as olives and Marcona almonds.
FOOD AND WINE PAIRING WITH THE WINEMAKER ($80/person)
Similar to the first option, but hosted by our winemaker, Ryan Sharp. With a more precise focus on the winemaking process and specific food and wine pairings, Ryan tells the story of ENSO and how wine and food work together. Barrel tastings and library wines are part of this magical experience.
Our General Manager is also a part-time florist who would love to offer additional ambience for your event. You can inquire with her by emailing kari@ensowinery.com.
RENTALS
Should you need more than we have on site, you can rent tables, chairs, linens, flatware, dishware, etc. from a company like The Party Place in Portland. If you are having the items delivered, please ensure that the vendor will deliver the items just prior to the event. Client is still responsible for set-up unless you pre-arrange for the rental company to handle set-up. All rentals must be scheduled for pick up at the end of the event.
PAYMENT + FINE PRINT
Full rental fee required to hold date. That deposit is non-refundable, but is transferrable.
Payment for alcohol and food due at end of event with 18% gratuity added to all alcohol and food purchases.
Early load-in or setup or Private Event related staff expenses outside the specified rental hours will be subject to additional charges.
The rented space needs to be left as it was found. If cleaning is required, a $100 cleaning fee will be billed to the host.
The size of our Barrel Room is roughly 49 feet by 27 feet. The size of our Tasting Lounge is roughly 49 feet by 16 and 30 feet, depending on the space.
Both are roughly 1300 square feet. The bathroom is located near the bar.
The sink and prep area are located in the front part of the Barrel Room.
According to Buckman neighborhood ordinance, we must stop serving alcohol at 11pm. And according to our OLCC liquor license we are only allowed to serve wine, cider and beer.